About Us

It all started with garden art under the name YANZUM. You can read about that on my other website here:
YANZUM
. In 1990 I moved to a building in Atlanta directly across from the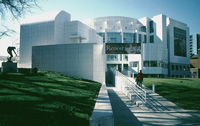 Woodruff Arts Center and the beautiful High Museum of Art building designed by Richard Meier.
I had the best view in town, which inluded a large Rodin bronze statue and a large Calder mobile.
I found many vendors at trade shows, and some African runners started coming in with their vans loaded with carvings, so I began experimenting with some cheap African masks, statues and beads to go along with the unusual folk art and other hand made objects I carried.
Eventually in 1994 a man who would become my long time good friend and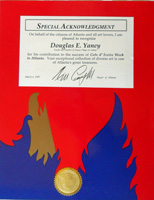 mentor found his way to me through interesting circumstances. He started teaching me the difference between authentic African tribal pieces and those that were made for the sole purpose of selling to tourists. He worked with several museums selling only high quality authentic traditional African tribal art, so I started going more in that direction as my business was being transformed from an arts and crafts store into a real art gallery.
I had many wonderful shows in the gallery, including Inuit art from the Canadian Arctic, sponsored by the Canadian government through the consulate a block away. In 1997 I received a special acknowledgement from the Atlanta mayor that says: "Your exceptional collection of diverse art is one of Atlanta's great treasures." The gallery was very successful with a very loyal following. I met so many wonderful and interesting people.
It was becoming more difficult to deal with the spiraling costs required to run an art gallery, so after many years of long days and little time off, I ultimately made the difficult decision to close the gallery. I have never missed the long hours and high costs required to run an art gallery, but I do miss talking with all of the wonderful, interesting people who came into my gallery every day.
Now I live in central Florida in a small beach town where I work from home. I still sell high quality African tribal art via this website, while also working on the many import/export projects that come my way from friends and contacts I've made around the world.
I've created an additional website that focuses on some of my other passions, including tropical plants, gardens and recycling. It has great information about creating garden art from recycled or found objects. Take a look. www.yanzum.com
Thanks for viewing.
Douglas Yaney
Contact Page